NEW:
Mobile sorting-platform on Semi-trailer with liftable roof.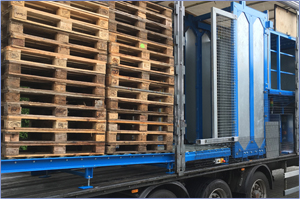 Useful for pallets of 80x120cm and 100x120cm.
Capacity of 200-300 pallets/hour.
Does not need much space.
Easy to move.
Very affordable.
Available to rent.
Cekamon LIGNA 2017 presentation:
Here is the presentation showed at our stand during the succesfull LIGNA 2017 show in Hannover.
Your broken pallets repaired thanks to Cekamon Saws!!
Used pallets:
need to be sorted every time;
while broken pallets need to be repaired;
or (if there is no other option) need to be dismantled.
Cekamon Saws has cheap and fast solutions for all types of pallets and all palletcompany's!
CekamonSaws has over 40 years experience in the palletindustry and machine construction. This experience allows us to give a custom and peronsal advice for all of our clients.
Besides the many services CekamonSaws has to offer, another big advantage is that Cekamon has been a leading company in the palletindustry and the logistic sector.
For a personalized offer
please call
0341-550038
or fill out the
contact form