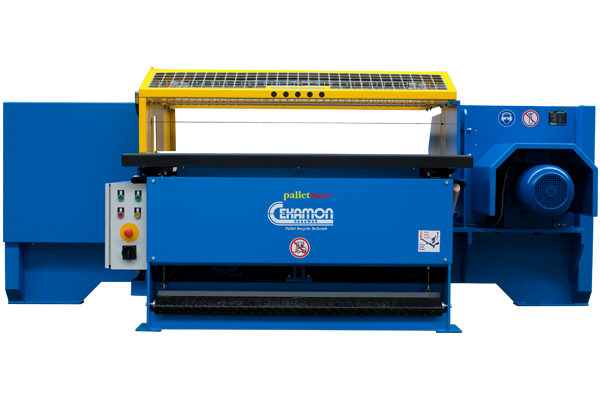 The PalletSaw type W is a pallet stripping machine and is ideal for removing defective parts of pallets or completely dismantling of pallets. The best features of all the previous models is brought into one machine. The machine is available with various
options
.
Click
here
to watch the vdieo of the PalletSaw W
Features of the PalletSaw type W:The tabletop
The speed is variable adjustable wich makes the machine very appropriate when using it to repair pallets.
The scissor mechanism always gives you the right amount of stability and makes sure that the table is always parallel to the bandsaw.
The footpedal works very good thanks to the use of a spring tensioner.
De bandsaw tensioner device
The stretching of the bandsaw does not have any influence on the tension of the saw
The life time is prolonged
The changing of the bandsaw has become very simple
The safety switches
Only 2 safetyswitches what minimalizes a chance of mailfunction.
The sawwheel
Made of solid steel and is very easy to adjust.
Extensive features:
Integrated forklift entrance ease the movement of the machine
a connection for the extraction of sawdust
extra solid doorhinges
instead of pushing, one can also pull a pallet through the palletsaw
completely maintenancefree; only cleaning
More reasons to choose the Cekamon Palletsaw
fixed protectionhood so you can work safely
lighting in the protectionhood for a good view on the work
The motor is equipped with a motorized brake, wich can stop the bandsaw immediatly when neccesary.
The stripping machine is suitable for dismantling and repairing of pallets.
The stripping machine can be operated by 1 person.
The hands are completely free by the use of a footpedal.
The cutting of nailresidu is no longer required.
CE Certificate (very important) is attached.
The well known good service of Cekamon
Please contact us for an offer or a demonstration:
Call
+31(0)341 - 55 00 38
or fill out the contact form.
8
or fill out the
contact form